Tuesday:
Thought my company won't let me go, but they did! They even gave me a simple farewell gathering. God is really wonderful to do such miracle. :) No bad feelings.. but instead, i got blessings from them...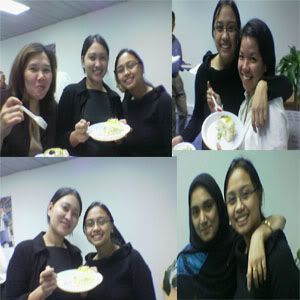 at the gathering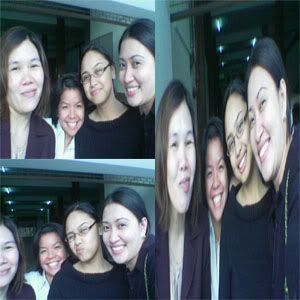 just took some shots with mah friends, malaine, aisa and yen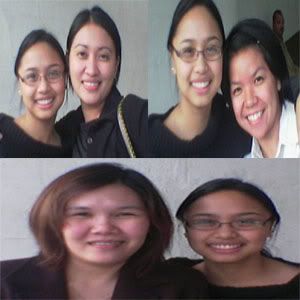 and another one...
Wednesday:
My first day at my new company. Was introduced to everyone. Observed the nature of the job. Looks pretty tough... hmmm.. Can i make it??
Thursday:
I got the routine and the way on how the job should be done. It's tough to deal with customers... and at the same time, hard to deal with multiple callers. But this is what I'm looking for that I cannot find in my previous company... the excitement and the pressure... So, why am I complaining??
Thursday night:
Wohoo! Party! My friends from my previous company came over at my house, you know, just to have fun and catch up. And they bought me a coat! Thank you guys! I really need a black coat. Hehehe...
Had fun. Everybody was in the cheery mood. Laughing and joking around.
But one thing made me happy. It's the time that we get to share with them the love and salvation of Christ. Yen, thanks for sharing those things with us... We're just here anytime you're ready... :)
About the foods? There was pancit malabon, braso de mercedes and barbeque chicken. I guess everybody was satisfied coz i think nothing was left. Hehehe...
Party ended at 2:00 in the morning.. Guess what, we were enjoying the company of each other through the coldness of the night. It was too cold, freezing, but the warmth of each other's presence kept us cozy... :)
It's really a wonderful feeling when you get to bond with your friends... right my dear blogger friends???
p.s. miss you guys!
another p.s. pics to follow!!! :)