During the first and second day of Eid, my family and I just spent the day at church listening to the wonderful seminar Pastor Paul Morley had conducted. My spirit was refreshed once more with his encouraging words.
But during the first day, we were planning to go to Aladdin's Kingdom (its like the Enchanted Kingdom here but I think Enchanted Kingdom is far better than what we've got here) after the seminar but to some reasons, di kami natuloy, so we postponed it for the next day.
So the second day of Eid came, was very excited about the amusement park trip. When suddenly, I heard a thunder. So thinking that, oh well, it's just a thunder. Then another sound came, then another..then another... Waaahhh!!! It was raining! (
yes, umuulan din naman dito sa
disyerto.hehe
)Our trip will be cancelled again. So after the seminar, I was so gloomy.
But after an hour, I can see the sun peeking through the dark clouds. Yey! We're going!
Off we went. And here are some pics.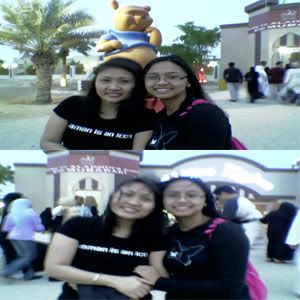 my mom and i at the entrance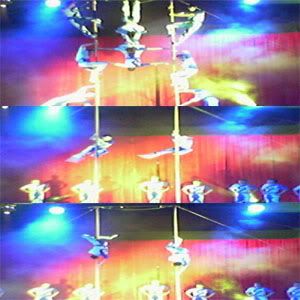 men from the
Chinese State Circus
doing acrobats. they were really good. totoo pala yung mga ginagawa ni Jackie Chan.hehe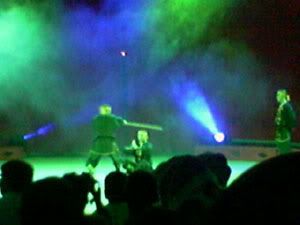 a man getting ready to be hit by a hard wooden stick. he's got a hard head talaga. they even got bricks to break sa head nya. talk about concentration.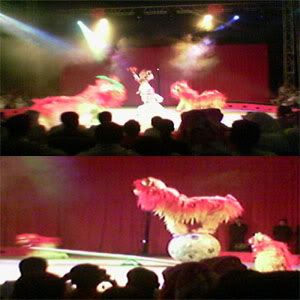 this is the one i really like. dragons! chinese dragons playing balls! really fun and cute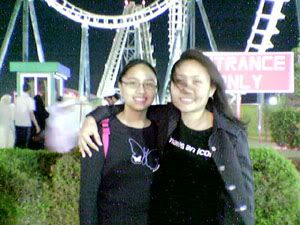 me and my mom. behind us is the roller coaster.
But I was a bit disappointed coz it says in their advertisement that there will be para-gliders, aqua show, a kids theater and so on. The only thing that they got really good is the Chinese State Circus. I was looking for the para-gliders but there were none...
Oh, about the Chinese State Circus, our experience was nakakatawa na nakakainis. So, we're waiting outside the circus tent, waiting for the entrance to be opened. The crowd waiting with us was getting larger. Then, they open na entrance door. It was like a stampede!! People were pushing just to get ahead to the entrance. The ladies were shouting "Slow down! We've got kids here!!" I was holding hands with my mom so we won't get lost and be carried away by the crowd. Pero grabe talaga, they were pushing!! My mom was really angry and upset kasi napagbintangan pa sya na nanunulak. The lady shouted daw at her face na she was pushing. I don't like to mention nationalites coz I don't want to get in trouble. Pero nakakainis talaga sila.
Do you also like going to parks like this? Coz I do… It's so much fun! Fun! Fun! (except for the stampede thing that happened.hehehehe....)