Our Japanese Senior Commercial Manager has left for good. I kind of felt sad because he was nice and you never see him get angry or raise his voice at you. And he's a joker. So when he walked out the door of our office and waved goodbye, we all know that we won't see him again. But he left us with something to remember him. A Japanese Christmas card with a paper-folding inside. They're really good with this art of paper folding.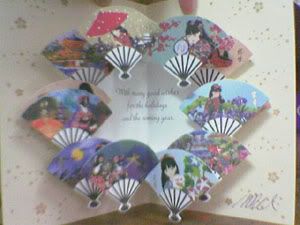 this is the one i got.
****************************************
Yesterday, we went to this one exhibit called the
LOST WORLD
. Bones and fossils of different kinds during the dinosaur period were displayed. We were just amazed on how long na these creatures had lived. Millions of years ago na. So that makes our world billions and billions old na rin. Imagine? Gano katanda na ang earth and still it is giving us all the things that we need in order to live.
Also,what if these extinct species e hindi naging extinct? Imagine, these big animals living with us modern men. Hehe... Mingling together with cars are the T-Rex and the Long Necks and together with airplanes are the giant birds. Haha! Funny thought isn't it? But I think hindi rin pwede mangyari yun. They will eat our heads off and stomp on all the things na madadaanan nila.
These fossils and bones just proves that there were really dinosaurs before living on this earth and its not just any make-up stories that we see on movies like Jurassic Park and read on books. They really existed.
me at the entrance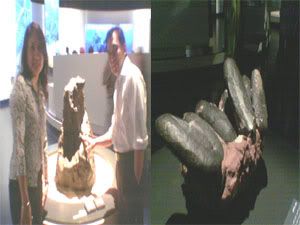 my mom and dad beside an iron meteorite and on the right are dinosaur eggs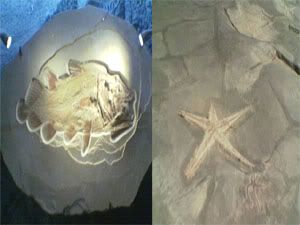 fossils of fish and starfish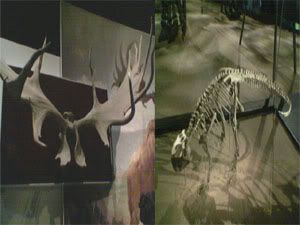 a giant antler and bones of a baby dinosaur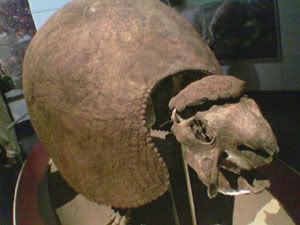 i love this! heheh.. its got a hard plate on his back on his head. he's like an armored turtle.
me beside the dinosaur bones
shell of an amonite. amonite is like a small octopus.
Overall, it was fun seeing those artifacts being preserved for the future generation to see.
Growl!