Frustrated. Annoyed. Envious. Tired.
Those are my feelings for the past 3 days.
Why? Ok. Let me tell you.
Frustrated and Annoyed.-
I'm having my driving lessons for the past one week. Everything was fine so far. Konting practice na lang, medyo ok na ako sa road. But when it comes sa parking, lalo na sa S, I'm so dead. One week na ata ako sa S parking, and still hindi ko pa rin gano makuha. Hirap ako magtantya at nalilito pa ako sa pagstir ng stirring wheel, kung san ba iikot yun after ng right at left bend. I don't want to lose hope, I really want to have my driver's license. Tapos, titigil pa ako for one month pagdating ng Ramadan. I'm afraid na malimutan ko pa lahat ng natutunan ko. I'm so sad talaga… I'm really praying hard na makuha ko na yung S nay un at yung iba pang parking styles like the 'L' and the packet parking. And I can see and feel na medyo irritated na din sakin yung instructor ko. Huhuhuh. I'm really sad.
Tired
- Since the start of the week, that was last Saturday, I did a lot of work in our office. Busy busy busy! I was thinking of updating my blog nung Sunday pa, pero I can't coz of the loads of work. Tapos, inis pa ako sa driving lessons ko, kaya I felt really tired and exhausted. When I reach home, after eating my dinner, nakakatulog na ako sa sobrang pagod. Haayy.
Envious -
hahaha! Now this is the fun part. Wanna know the reason why inggit ako? Coz my friend Cathy got some pictures of her together with the Champions, namely, Christian Bautista, Sarah Geronimo, Rachelle Anne Go, and Erik Santos. They had the Night of the Champions concert at Chicago, where Cathy was staying. So there! Inggit talaga ako. hehehe. But they will have their concert in Dubai (that's only a 30-minute flight from here in Doha) on December 2. So wish ko lang makapunta ako diba which is malabo naman mangyari.
Cath, 'ope u don't mind. I'll just show off your pics!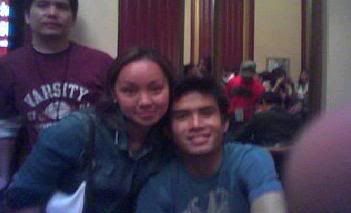 So, there. I just wanna shout!!!!! AAARRRRRRGGGHHHH!!!!