Alright guys, here are some updates. :o)
SICK
Got a bad cold – again. It started last Saturday and up to now, I still have it. I don't why it won't go. Tawag na nga sakin sa office ng mga drivers e "leakage" coz my nose is always leaking. Nyorks! Hehehe… I hate this, there's no taste on foods, I can't breathe properly and my nose is running. Garsh! Hope na i-let go na ako ng sipon na to. It stayed in me for quiet some time now and I think it's time for it to go.
COMPUTER
I still got the pop-ups! Can't remove the parasites on my computer! Aaarrrrggghhhh!!! But I removed the automated links.
WORK
Work was so boring. Basta bored ako. Kainis.
WEATHER
This is good news. The weather here in Doha is getting cooler already… The water's getting lukewarm na unlike nung kainitan ng summer, it's as if the water from the faucet has been boiled. I can use my shower na! yahoo! Yoko na magtabo e… hirap… hehehe…
CHICKY
Okay, for the fourth time, my pet Chicky gave birth to 5 kittens. Monday morning, gulat na lang kami kasi liit na ng tiyan nya, meaning she gave birth na! But the babies were not in the box that we made for them. Tuesday morning, my tita found the kittens under one of the staircase in the house, and placed them on the box. Sadly, my dad had to throw the 3 black ones kasi ang dami ng pusa dito sa bahay! Check out the pics!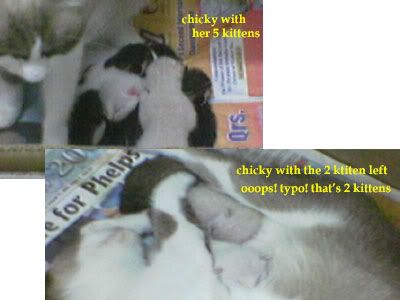 JUST FOR FUN
One friend of ours who is working in a car showroom in the same building where we work invited us to take a peek on the launching of their latest car. So we went, expecting for the foods, but unfortunately, the foods were not served yet. So, we turned our attention to the cars! And managed to take some pics. (we love pictures!)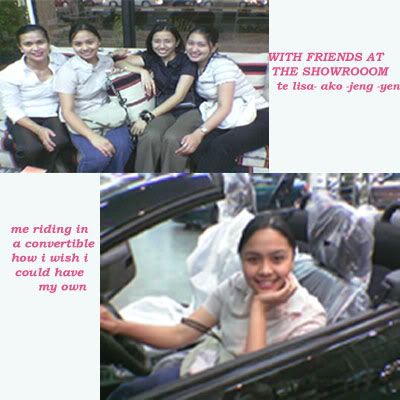 FRIENDS
Ok. This is wala lang. hehehe… I took this pic kanina lang during our music practice. In the middle is Ate Elvie, on the right is my bestfriend Jeh, and on the left is the blogista. ;o)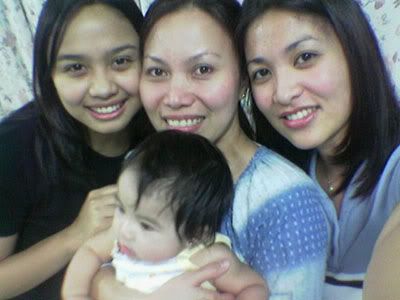 GAWANG PINOY
While checking out the sale at a home decor store, my mom saw pretty things na pandisplay sa bahay. We checked out the tag to see how much and to our surprise, it says in the tag na it's made in the Philippines! Magagaling talaga gumawa ang mga pinoy, hanggang disyerto naaabot nito ang magaganda nyang mga likha.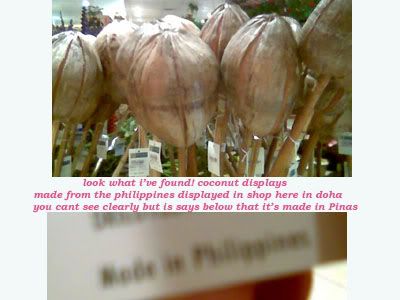 DREAM ROOM
I found a design i would like na mangyari sa room ko. i love pink and purple, so there! I feel like a princess here!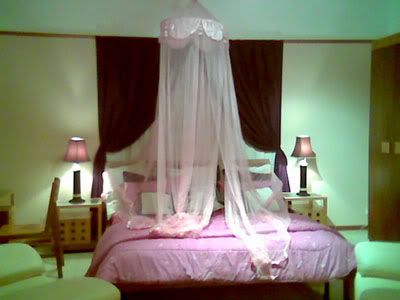 BIRTHDAY
'twas my Dad's bday last Wednesday. My Tay just cooked palabok. Yummy! Syempre, dami ko na naman nakain. Got him a cake, he got two cakes by the way. One from us and one from a friend of the family. Got him an ice cream, he got three ice cream flavors! So you can picture our fridge full of ice cream and cakes. Harharhar! And today, I treated him at Bennigans. Of course, naubos ko naman ang 12oz na steak! Waaaahhh!! It was fun…