Stuffs
Driving
Hmmm…. 23 days to be exact since I started my driving lessons. And so far, I improved. Remember the last post I wrote saying that I've been having a hard time? Well, not now. I conquered the S and the L technique! Yahoo! Right now, I'm into packet parking, well, ok, I find it hard coz I've been only practicing for three days. But this morning, I think, I'm getting it. More practice Jajey and u will get it… You know you can do it…
Workout
Since Ramadan started, I started my daily exercise routine. At four in the afternoon, I will have a one hour badminton game with my dad. Its fun coz it's also the time that we get to have that father-daughter bonding thing. After, I will have my aero routine courtesy of Rosemary Conley. Hehehe. I have proven her very effective. I was so big and flabby before, and when I did her routines, I can't believe the results! So now, I'm having a one- on –one with her again to remove the excess baggage I gained for the past year. I hope I can keep it up.
Party
Last Thursday, I attended a children's party. It was the birthday party of my officemate's daughter. It was fun coz I saw Kat. She left our office last October 10 coz she got a better job. Lucky her. Anyway, the party was great for the kids. I can see that they had fun coz of the big playground the restau got. But unfortunately, I had to leave early kasi my practice kami sa church at 7:30…
pic from the party... do i look old with my glasses on??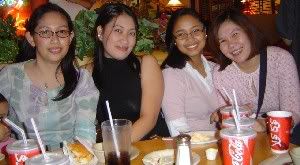 Friday
Yesterday, I attended the morning service in our church due to the reason na walang back-up sa umaga. I usually attend the afternoon service kasi. And in the afternoon, my bessie and I managed to exchange some badminton hits. After we played, I ordered a cheese and pepperoni for our dinner. Hahahah! So parang bale wala yung work out no?
Foggy
See the pic below? That was last week. When we woke one morning, there was too much fog outside. It's because of the changing weather we're having here in Qatar. Winter is coming so that's why. That photo was taken while I was walking to get to the driving school which is just behind our house. That was 6 in the morning.. Creepy huh? Looks like one scene in a horror movie… hehehe…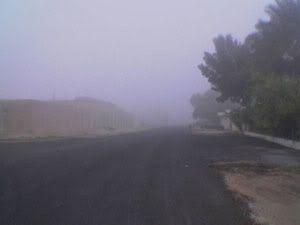 Fish
I was laughing when I saw the sandwich my dad prepared for me. Para daw ganahan ako. Haha!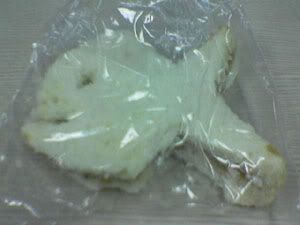 Food
Earlier at lunch, we had kare-kare. so i was looking for our patis, but we have none na pala. e gusto ko talaga may maalat na seasoning when im eating kare-kare. my only resort - bagoong! Hindi ako nakain ng bagoong and that was my first time to eat that. and i found it good... hmmm... ok pala ang bagoong..heheheh...
Talks
Just this morning
I heard Jeng (my officemate) giggling
Jey: "Baket?"
Jeng: "Gulat ako sayo e.
Jey: "Baket"
Jeng: "Pagtingin ko sayo umiinom ka."
Jey: Medyo nag-isip at nagulat "Ay oo nga pala! Bawal!"

I totally forgot na bawal uminom kahit sa upuan namin ngayong Ramadan. I was drinking my water all along. Hihihihi…. Sorry…