Hmmm...
I'm supposed to go with my friends sa Palm Tree Island this Friday afternoon, pero di ako nakasipot. We have a guest speaker in our church and i wouldn't want to miss the message God would speak to me. I just hope that my friends didn't make tampo or galit... huhuhuh...
Eid Mubarak

Ramadan is finish. We have a three day holiday! Wohoo! But lucky those who work in the government and in some selected companies, they have a whole week off… but better have something than nothing. ;)
This also means that it's back to our regular work schedule… that's up to six in the evening… no more half days and no more long sleep in the afternoon… I'm back to my 5minute nap… sad…
Yeah Baby!!!
Yeah! I'm driving a
Prado!
Well, actually can't drive it on the highway coz I ain't got my license yet... I only get to drive it around our block. But what the heck! We got a Prado!!
My dad got it last Thursday, and I was so excited to get on it. After lunch, my dad and I made kalikot to its features and we were impressed. It's got a lot of compartments to put my dad's stuffs, it can seat 12 people including the driver! It needs diesel which means we can save on gasoline. But one friend of my dad told him that why take diesel e gasoline's cheap here. Whatever, my dad loves his new car. It's his dream car actually. His dream car for our family... God is really good to His children... Thank you God for this wonderful blessing...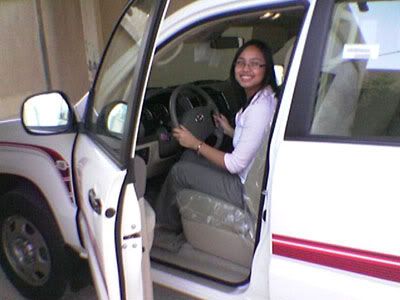 As of me, sometimes I can't sleep at night...I kept thinking the day that I will get to drive that beautiful vehicle. Can't wait to get my license... Maybe by the end of November or first week of December, with God's grace, I'll get my license...can't wait...