Anxious
I'm still feeling nervous, tense and scared. Tomorrow, our big bosses will arrive from their meeting in Japan. And only one day is remaining till i start on my new job. Still asking if my present employer would freely release me and still questioning if my new company will give me more extensions. God, i need a miracle.
Buys
We went to City Center earlier coz i thought of buying some winter clothes coz its really getting cold here now in Qatar. Unfortunately, couldn't find any. There were a lot of sale items but there was nothing good. All the good stuff is not included in sale. Why??? So, instead of getting a new set of winter wardrobe, this is what i brought home...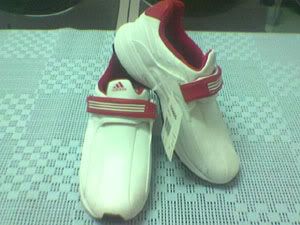 Cheap kasi e. Just had to buy it. :)
Wedding
Wedding. It always brings tears to my eyes. I don' t know why but everytime i watch a wedding, it brings me to tears. Maybe its the romantic aspect of the event and of course the thinking how God brings two people together and bind them as one.
Last Friday, we attended a church wedding of our family friends. It was so simple but so inspirational and emotional. The groom was so emotional that when his bride began walking down the aisle, he was crying. I really like that. When the groom cries when he sees his bride. It just proves how happy he is to be united with his wife. Even at the reception, the groom was crying. Heheh.. It's because of what his brother did. His brother recorded a voice message from their parents. After hearing the message, everybody in the room was crying.
The wedding was fun and I can see in the couple that they will have happy years ahead of them. Godbless to both of you!
Of course, I won't forget to post some pics!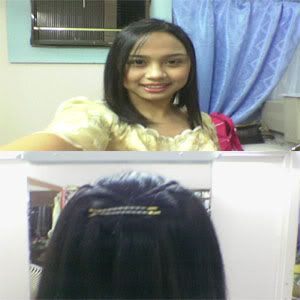 this is me.. just got home from the parlor. like what they did on my hair..simple but elegant.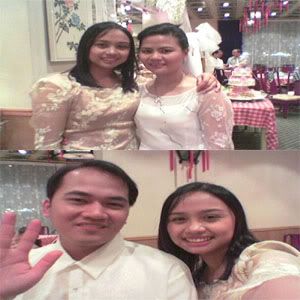 with the bride and the groom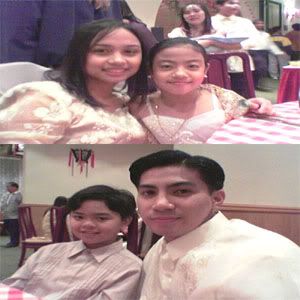 with the flower girl, my partner as a secondary sponsor and the ring bearer
with friends at the reception, and on below left is my wonderful pianist, Kuya Egay
Oh, forgot to mention. I was the wedding singer at the wedding. I sang IKAW on the bridal march, i sang THE GIFT on the signing of the contract, and i sang LOOKING THROUGH THE EYES OF LOVE on the wedding dance of the couple. IKAW is my favorite because of the wonderful lyrics it got. So, might as well post the lyrics.
Ikaw ang bigay ng Maykapal
Tugon sa aking dasal
Upang sa lahat ng panahon
Bawat pagkakataon
ang ibigin ko'y ikaw
Ikaw ang tanglaw sa 'king mundo
Kabiyak nitong puso ko
Wala ni kahati mang saglit
Na sa iyo'y may papalit
Ngayo't kailanma'y ikaw
Ang lahat ng aking galaw
Ang sanhi ay ikaw
Kung may bukas mang tinatanaw
Dahil may isang ikaw
Kulang ang magpakailan pa man
Upang bawat sandali ay...
Upang muli't muli ay...
Ang mahalin ay...
Ikaw