Finally, a time to update my blog. Nagkaron na ako ng time kasi we have a 4-day holiday ngayon sa Qatar, coz of their Eid. Kaya, I'm just here at home, relaxing... Sometimes kasi, work can make us feel fed up, right? Thank God for holidays... :)
Guess what! Nagparebond ako ng hair. I love it! Sa wakas, I dont have to wake up early just to make sure that i fix my hair properly. Ngayon, wash and go na lang. Take a look, straight talaga sya.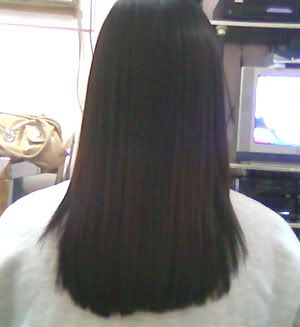 oks ba?
********
I'm so happy din coz i came back with my youth group band. So happy! We're planning to record an album, you know, just for fun. Hahaha! We'll see how we sound in the CD. They name our band "
The Soulvivor".
I don't know how they came up with that name, but it sounds good...
I think we'll have the recording this coming Monday.. We'll just see.. ;o)
******
Here's a pic of my car pala...
hehehe...
*****
Bakit kaya sa work, there's always someone where "extra grace required"? Know what i mean? Just makes you irritated pero you just have to be patient... Haay... And I think after our 4day holiday, there will be some changes, and I think it includes me... It makes me nervous..really.. Ano kaya yun?
Anyway, happy happy days to everyone!!