ok..so its thursday again..was happy coz its the end of the weekdays...half day at work.i was so excited when i saw the clock stricked one.yohoo!time to go to my appointment at a beauty parlor to have my hair trimmed.but unfortunately,my table was still a mess..airline reservation papers there..tickets here..grrr...my computer was still on and i found myself staying for 30 mins more at work..my boss still giving me visas to scan and schedules to issue PTA and tickets..so i called my driver and asked him to come back for me at 1:30pm..so 1:30 came and off i went. sadly, my driver didnt came at exactly 1:30pm. i waited for him till he got me at 1:45.. i was crying (really, i cry when things aren't going the way i planned) coz my mom called me and said that she'll go home and cannot wait for me at the parlor..bummer..so, i arrived at the parlor one hour late..lucky me,the person who has a schedule at 2pm didnt come early, so i had my hair cut without any delay..after 10mins, i was done and i called my father to pick me up. went home, took my lunch and took a rest..
my mood changed when we went to see the
Summer Festival
happenings here in Doha. it's been a month since this festival started and its just now that we had the time to see it.first, we went to see the
Bashara Village
at the
Qatar Exhibition Centre
. i was thinking that booths will be there displaying different cultures and heritage of the country.but instead, different rides and game booths welcomed us. hmmm..well, we're there so why not enjoy it a little.we played one game wherein we won a prize..haha! it was a picachu alarm clock..hahaha! so much for luck!(our tokens cost us 30 riyals and we just a won an alarm clock) so after going around the centre, we headed at the nearby mall-
City Centre
..there were shows there, performed by i think Europeans..they we're doing acrobats and clowning.it was fun!really enjoyed that. then off we went to Shoemart, haha.. i bought one pair of black sandals..kaltas na naman sa pera ko..hehehe..
at around 7:15,we headed outside the mall to go to my much awaited show-
THE HOLIDAY ON
ICE!!!
the show was performed inside a big tent..and inside there's a man-made much like an ice-pond where the performers will showcase their talents.it was really beautiful!!! colorful costumes, funky music, perfect lighting effects and of course, wonderful performers. too bad, cameras were not allowed so i was not able to take pics..awwww...really sad..but the show was terrific! performers were of European nationals. sulit ang 25riyals entrance fee..it was really great..in the audience, i saw one guy i knew..he used to sell us sandwiches..he's of new zealand nationality and we used to exchange conversations whenever he dropped by at our office to sell his sandwiches..too bad he didnt see me..or maybe he saw me but didnt recognize me..

after, we filled our stomachs with chicken fried rice and broasted chicken at a nearby diner then decided to go home..

it was a terrific thursday..in fairness..

here's some pics of the day..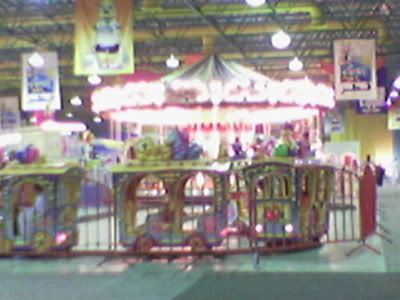 inside the Bashara Village..so much of a village huh...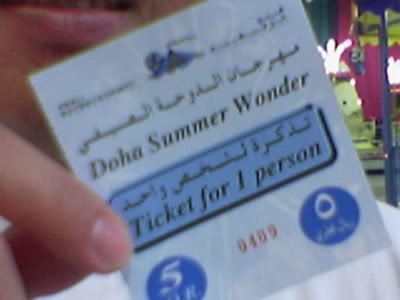 the tickets that costs us 30riyals in total for the tokens..which only gave to this..see below pic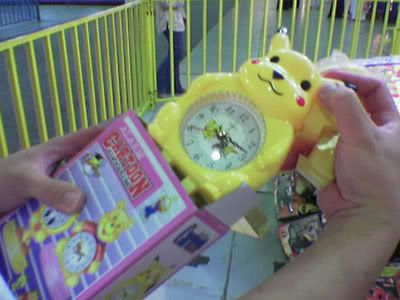 harharhar...at least its color yellow..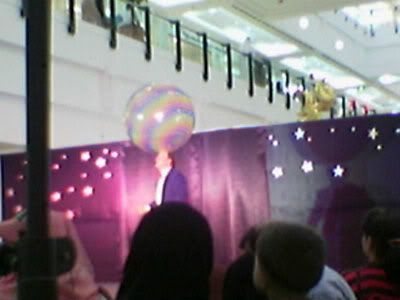 a clown balancing a large beach ball on his head..he's funny..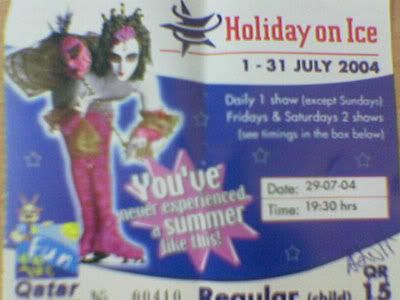 the ticket for Holiday on Ice..
i managed to take a shot(secretly..without the ushers seeing me..harharhar..) of the Holiday on Ice performers...
to check out more about holiday on ice, visit their website at
http://www.holidayonice.com