Last June 17 was a very special day... It was our first year anniversary!! And we owe it all to God for bring us together... and for that one year, for making our love grow and not fade... Of course, there were conflicts.. But one thing we're proud of our relationship is that we don't let the sun go down in our conflicts... the longest tampuhan we had was i think 30mins... Hehehe...
We celebrated that special day by having a wonderful dinner at Ritz Carlton at The Lagoon. Food was wonderful... And the night is just so blessed... I had a surprise cake and balloons...
Looking for more wonderful years together....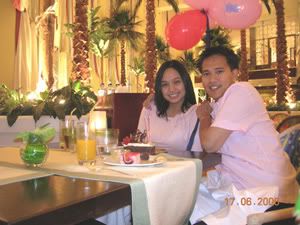 **for more pics you can look at this link...
http://jeyjey.multiply.com/photos?view_page_as=anon